Today if you look around, you will find many brands that are happy about simply adding followers to their Twitter handles or getting regular likes on their Facebook posts. But the 'followers' and 'likes' that don't get you revenues or other measurable impact – don't really matter, do they?  Social Media can make a world of difference in your marketing strategies and their effectiveness. But the question is how? The good news is that if you are thinking this – you are at least on the right track.
So, how do you use Social Media to its fullest potential?
– think Social Media monitoring.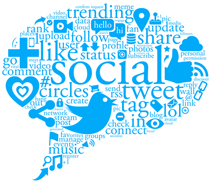 Social media monitoring basically deals with tools and methods to efficiently gather, classify, analyze and use information gleaned from Social Media to derive maximum benefits for your business.
Say, you are a leading footwear brand called 'Foots' and have multiple stores across cities. One fine day, Jane Doe (who's following you on Twitter) sends a tweet – 'Feeling blue [Symbol] wish I could shop away my feelings'. If you were using Social Media monitoring tools, you could use this as an opportunity to generate real sales!
How, you ask? Well, your Social media monitoring tools will pick up this tweet and send it to your CRM on a real-time basis, along with Jane's location co-ordinates. Your CRM team will then find out the running offers at 'Foots' in Jane's locality that would appeal to her and SMS this to Jane with a personalized coupon code to avail the offer. Given the mood Jane is in, she might actually visit her local 'Foots' store to check out the offer and purchase something. Further, if the offer's good enough and it really lifts up her mood, she will Tweet away – 'Guess what? I did shop away my blues with the most amazing offers@ Foots!!' Don't be surprised if some of her friends barge in to shop at 'Foots' too!
So what can social media monitoring help you with?
Identify influencers – influencers are the key people or groups in the social media environment with hundreds of followers hanging on to every word they say. Your social media monitoring tools will help you identify them better and make your promotions and campaigns reach more eyeballs.
Indentify trends at brand, product category and industry level – your social media monitoring tools can help you in picking up the latest trends, whether they are being discussed at your page or your competitors. Say, a well-known fashion fair forum is currently discussing a hot footwear trend – your monitoring tool should be able to pick this up and send you the update.
Build closer bonds with your customers – social media is really a platform which lets you interact on a one-to-one level with your customers and prospects. If your social media monitoring tools can assess their needs and enable you to hold meaningful discussions with them – they will find it easier to identify with your brand; and thus help you build closer, long term bonds.
Collect real feedback to incorporate into your offerings – your tools should be strong enough to analyze and provide you information on what changes people really want to see in your brand. Once this is done, it's only a matter of time before you incorporate these into your offerings.
Conduct targeted promotions – the above 'Jane and Foots' illustration shows the level of targeted promotions that social media monitoring can help you achieve.
Generate 'Word of Mouth' effect and referrals – you simply can't ignore the fact that people love sharing on social networks. And if you are the cause of their happiness – you'll definitely benefit with each 'share' and 'like' generated. So remember, you should not just create opportunities for sharing (like the Foots case); you should also reward your followers for bringing their friends to your forum or for sharing your latest viral campaign.
– Research Optimus