What Is Competitor Analysis?
Competitor analysis enables businesses to identify their competitors and assess their strategies to compare strengths and weaknesses against their own products, services, and brand. Through competitor analysis, eCommerce businesses can discover what makes their services and products unique, and what characteristics need to be highlighted to appeal to target market sectors.
When performing competitor analysis, businesses should ask:
Who is your competition?
What are their products and services?
What is their market share?
What are their past and current strategies?
What media channels and marketing content do they use for their products and services?
What are their weaknesses/strengths?
What type of threats and opportunities do they present?
Analyzing and Understanding Your Competition
Website Metrics
Businesses have to delve into specific competitor metrics:
Traffic volumes
Where customers originate
Their website bounce rates
This technique can be applied to your own business to understand what your competitor is doing successfully, especially in the instance of your competitor having a more significant audience.
When analyzing website metrics, focus on:
Bounce rates
Engagement
Traffic numbers
Demographics
Traffic sources
Organic versus paid reach
Other websites that people have visited
Website Audience: Indicates web and mobile traffic, total visits, unique monthly visitors, and bounce rates.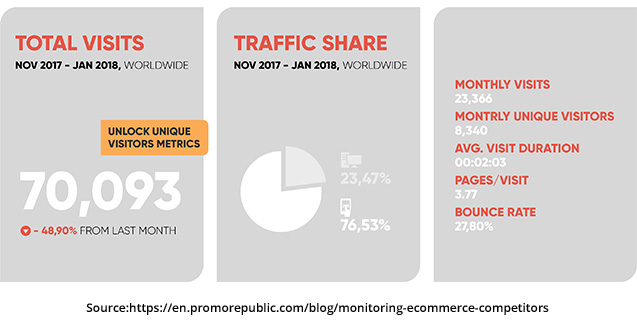 Channels: Indicates which channels and mediums are most successful for your competitors.

SEO: Identifying which keywords are most beneficial for your competitors enables your business to use them for your paid search.

Social Network Traffic: Identify which social networks are most prevalent for your competitors and invest in them to better reach your target audience.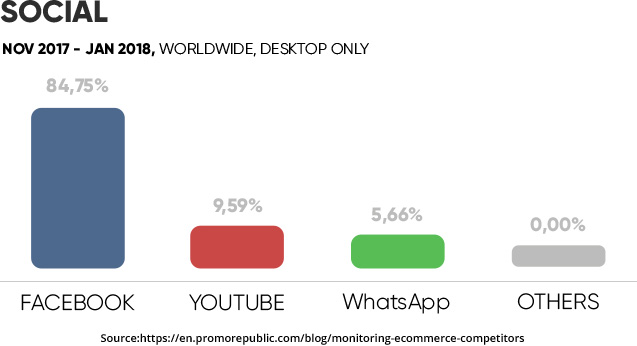 Facebook Analysis: Navigate to Facebook-insights-overview and then down to "pages to watch".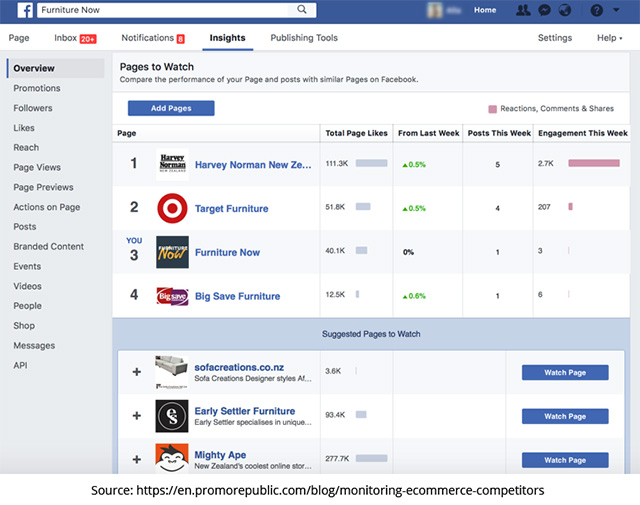 Competitor pages can be added manually, or check Facebook suggestions.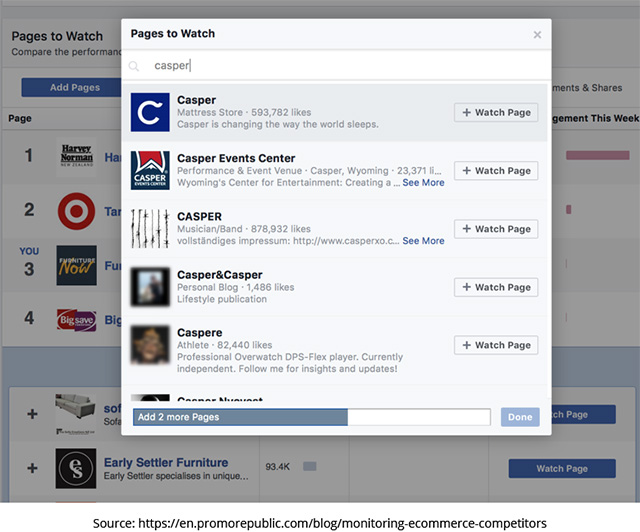 Define the top three pages with the best performance and conduct weekly analysis to determine which posts receive positive engagement, and which campaigns these pages are launching.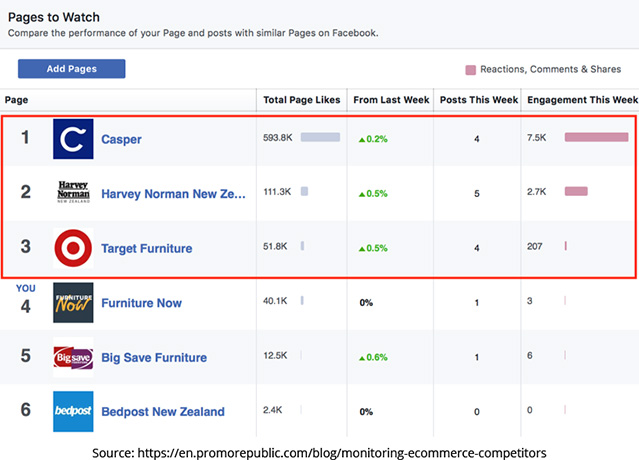 Assume the Role of Customer
Gain perspective of your competitor by visiting their website and acting like their customer:
Subscribe to their email newsletter to understand how they conduct their email marketing strategy.
Complete an insignificant purchase to examine their checkout processes, paying attention to pricing, shipping, and packaging.
Join their social media, study their posts, and read comments.
Visit their brick and mortar store.
E-commerce startups need to conduct frequent competitive market analysis to keep ahead of direct, indirect, and substitute competitors. It provides information about what has been successful or unsuccessful for them and informs your own marketing strategies.
Sources of Information About Your Competitors

Competitor Website UX
Start by checking out your competitor's website to get an idea of how they're doing online, and how they're branding themselves compared to your business.
The following can offer insights about competitor's online presence:
Do you know what the business is providing within the first moments of navigating their site?
Do they position themselves in a customer-centric way?
Is the overall website design attractive?
Do they have search engine functionality to find information quickly and easily?
How simple is their checkout process?

SEO Strategy
Check your competitor's on-page keyword strategies and inbound links to their site by doing searches on a private browser and evaluating how they rank to obtain a sense of your comparative position.

Competitor Blog
What topics are written about and how often is it updated? Assess how many likes and shares they receive to evaluate if their content is resonating with audiences.

Advertising
Search for different keywords to see if your competitors appear in sponsored listings. Paid tools like
SpyFu
identifies each place your competitor has shown up on Google, including AdWords and organic key rankings, which helps you determine which keywords are profitable.

Competitor Reviews
Check what has been published about your competitor on Google, Yelp, Citysearch, and other experience-based sites. Customer service complaints can help you avoid similar mistakes.

Social Media Content
Look at popular channels like Instagram, Facebook, Twitter, etc. to evaluate customer engagement levels and view how your competitors feature content.
E-Commerce Competitor Analysis Checklist
Define Competitors to Start Competitor Analysis
Perform a competitor analysis and mapping on Google to understand the online activities of your customer base. Create a list of keywords that are converting successfully and are relevant to your business, then use the keywords to search in Google and identify who is ranking on the first page and who is similar to your company.
Look at competitor's online stores and use the following as a reference for your own competitive position:
Identify their unique selling proposition.
Look at product pricing to see if their prices are market average, above, or below.
Promotion frequency.
Product content.
Shipping and return policies.
Customer support options.
Call to action placement.
Formatting for mobile devices.
Social media platforms, content management, and audience engagement.
Company blog and frequency of post.
Detect and Monitor Competitors Website Traffic
Determine which sources are bringing the majority of traffic to your competitors, which aids you in focusing your marketing strategy:
Traffic source, including organic and direct referrals.
Traffic location.
KPI's like new visitors and page/session, and monthly traffic.
Use tools that provide you with information about competitor website traffic, such as SimilarWeb, which is built on a global platform to increase accuracy and offer higher quality data.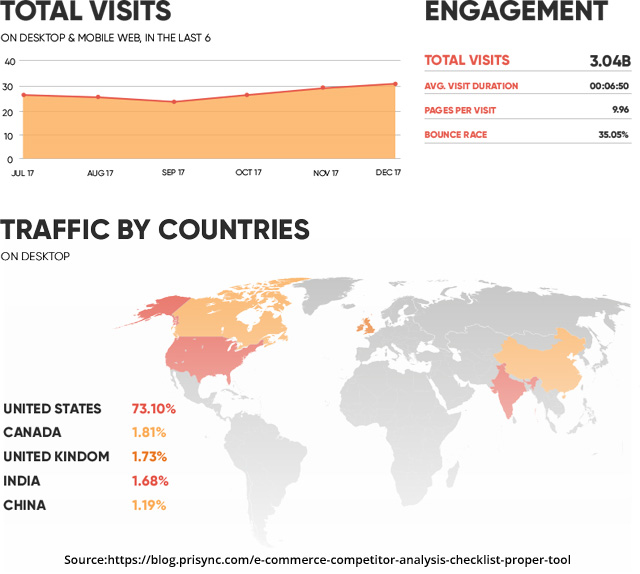 Monitor Competitor's Organic and Paid Keywords
Keywords are an integral factor in content marketing performance. Researching your competitor's keywords and their ranking in the search engine results page helps provide new keyword ideas and an understanding of their strategic growth and comparative positioning. It also offers information about consumer behavior changes so your business can quickly respond to shifting organic search trends.
Paid searches, Google research, and competitive intelligence tools that feature your competitors monthly budget and alerts your company to any new ads and keywords that are being targeted is also helpful.
Other tools:
Helps identify competitor keywords using different search functions, filter results, keyword specifications, and domain analytics data.
Locates potential competitors that your business might not have known about.
Locates competitor keywords and focuses on competitive intelligence research.
Make a Competitor Analysis of Backlinks
Encompasses reviewing websites that are in your shared industry and with whom you share an audience. Your competitor's website performance, including some backlinks, is evaluated to help you prepare a website development strategy, as well as:
Determine your competitor' performance and develop guidelines for how to compete with them.
Provide a picture of what is helping your competitors rank well.
Discover how to mimic a competitor's strategy to gain backlinks.
Conduct a backlink analysis by making a list of your competitors. If you're unsure of who your competitors are, you can use a tool like Alexa's Audience Overlap Tool to discover similar websites.
Competitor Analysis on Social Media
For an e-Commerce business, social media presents an opportunity to communicate with customers, promote products and services, and increase audience bases.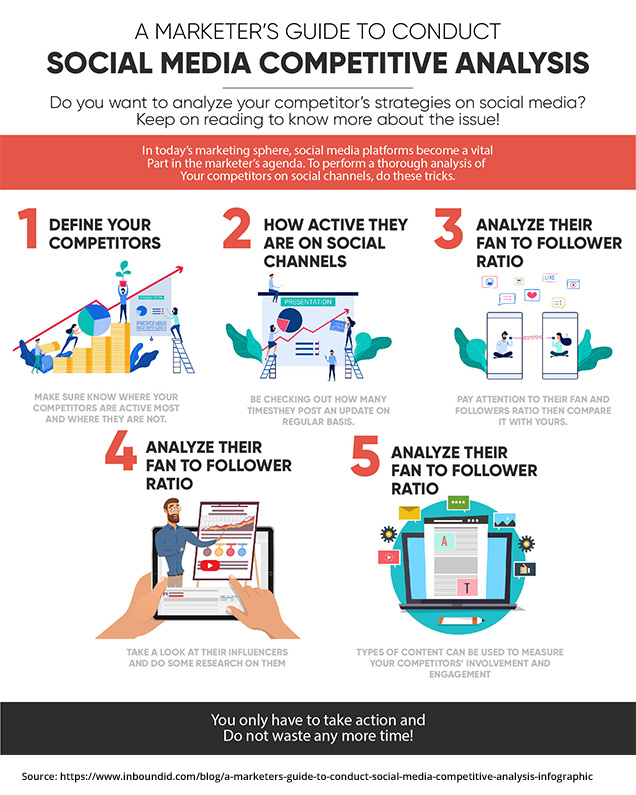 Track Competitor Prices
Price comparison engines are increasing accessibility to different shopping options, and are a solid business investment.
Automated Business Intelligence (BI) tools with competitor price tracking provide fast results.
About 90% of online shoppers like to shop around for the best deals.
Over 60% of online shoppers believe eCommerce pricing is the most important aspect of their buying decision.
Average online shoppers visit about three different websites before making a purchase.
Tracking competitor pricing at regular intervals enables your business to respond seamlessly with competitive pricing intelligence.

Competitor Options and Product Assortment: Businesses should prioritize specific products for benchmarking against competitors. E-commerce companies who use price tracking software gain the most noticeable benefits when focusing on their top 500 to 5,000 SKUs.
Stock Availability and Price Updates: It's misleading to only track by pricing because eCommerce businesses sometimes list items that are out of stock with a price tag on, so product availability and prices are important.
Research Competitor Content and Mentions
Studying your competitor's most successful content can provide inspiration and insights into the keywords and topics that appeal to your target audience.
Tools for Monitoring Content and Mentions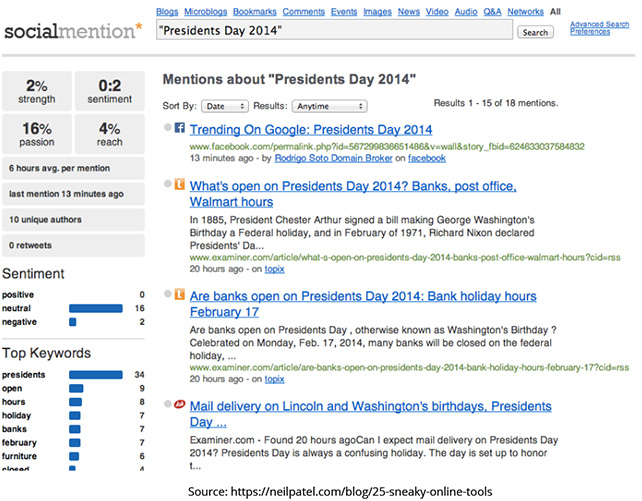 "SocialMention" (see above infographic) helps businesses target video, social content, and blogs. Simply enter a search term, and the tool displays what's being mentioned about that term across social platforms.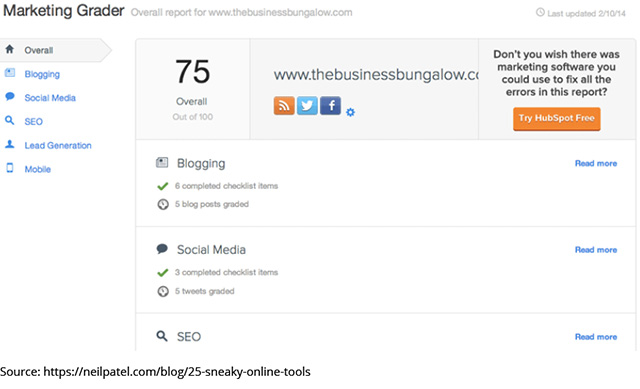 "Marketing Grader" (see above infographic) scores each of your competitors depending on their social media activity, SEO lead generation, and blogging success. You can monitor changes in their score and compare it against your own.
Monitor the Competitor's Website
Maintaining a frequent eye on competitor's sites pinpoints changes, like new banners or promotional content. Using tools that offer nearly real-time insights allows your company to stay apprised of competitor activities.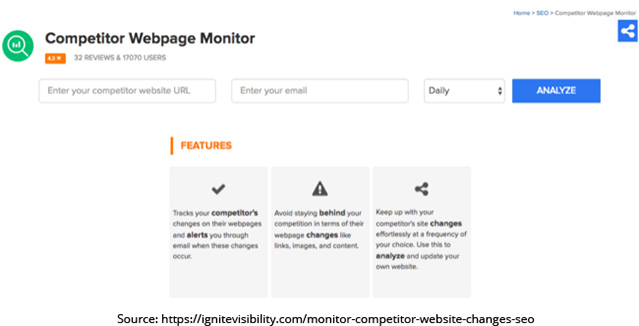 Competitor Webpage Monitor Free tools like "Competitor Webpage Monitor" (see above infographic)closely track competitors and monitors fluctuations on their websites.
Link Alerts"LinkResearchTools" alerts your company when competitors get new backlinks and offer a trust rating that reveals valuable links. It's costly, but reputable, current, and utilizes 25 data sources.
Google Alerts
This free option tracks web mentions of certain keywords and is helpful for marketers who need content ideas. It can 
monitor competitor activities
; you can set alert frequency, and discover when people are linking to competitor sites.
AHREFS AlertsThis tool (see above infographic) is utilized by high profile digital marketing companies. An alert system can notify your business about any new backlinks and provides alert versatility. Pricing options depending on the service model.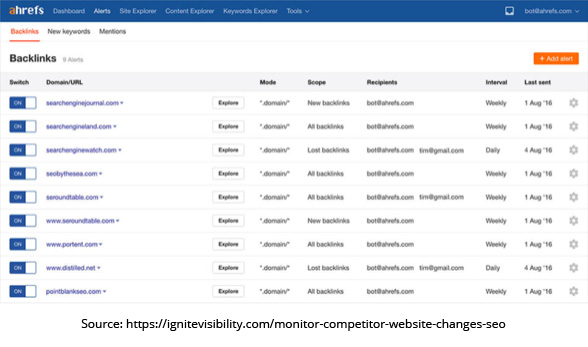 Competitor's Newsletters
Tracking your competition's newsletters gives you the ability to stay one step ahead with your own newsletters. Product descriptions, articles, or images, image density, text length, dimensions, and CTA placements all play a role in a successful newsletter.
How to Conduct Competitive Analysis Being an E-commerce Startup
It's smart to keep your competition close and conduct targeted competitor analysis, or Competitive Intelligence Gathering, for other eCommerce retailers in your sector.
Find Competitors
Use Google and Amazon to help identify your main competitors.
Begin with a basic search for your company's name, product concepts, and business ideas.
Then look at social media.
Keyword spy, Hoovers, Alexa, and Ahrefs are resources that provide more comprehensive overviews of your competitors.
Categorize Competitors
Primary CompetitionDirect competitors that either has a similar product or service range and are targeting the same customer base and audience.
Secondary CompetitionThis type of competitor might provide either a high or low-end version of your product or service, or sell something similar to an entirely different customer base.
Tertiary CompetitionIncludes companies that are peripherally related to your business and can help you when you want to extend your product range. This could include trending products and services, or a company that you might want to partner with someday.
Examine Your Competitor's Website & Customer Experience
After your ECommerce startup has identified your competition, you need to analyze their site and examine with the following checklist:
The detail level of their product descriptions.
Product photography.
Call to action prompts and locations.
Newsletter and email signups prompt.
Social media icons.
Mobile site optimization.
Blog, including posting frequency content type.
Contact methods.
Response times to queries on contact forms, email, or live chat.
Abandon cart saver feature with emails and messaging prompts.
Promotional frequency and customer
Identify Your Competitor's Market Positioning
Peruse your competitor's website and consider the following:
What customers are actually purchasing, and if it's because of your competitor's experience, reputation, or price.
How they differentiate their product.
Why their product and service is unique.
Collect as much information as possible and:
Sign up for their newsletterFor insights about their business and to see examples of communication.
Subscribe to and follow their blogTo view the content they feature.
Follow them on social mediaTo get an idea of how they brand themselves.
Purchase a productExamine the product and pay attention to shipping time and packaging.
Put an item in your cart and abandon checkout processSee if they send emails about the abandoned cart.
Analyzing Competitors from Product Perspective
The next step is researching what services or products your customers are utilizing as a solution to a problem. Attempt to pinpoint the top 3 to 5 competitors to determine what they are doing right and how their product and service designs are integrated with the User Experience (UX).

After this has been identified, create a table that lists your competitors and contains:
Competitors name and URL
Number of downloads and users to identify platform effectiveness
Main features they offer
Service or product costs
Then follow these five steps during your competitive analysis:
Research your competitors
Use their product or service
Identify UX problems
Discover product design shortcomings (if any)
Create a competitor analysis report
Analyzing Your Competitors from Marketing Perspective
Assess Customer Sentiment with Reviews
Locate competitor reviews.
If there are numerous reviews about a similar item that your company wants to sell, then this is a positive indication that consumers are interested in purchasing it.
If the majority of reviews are from dissatisfied customers who are unhappy with the product, service, or branding, then this may be a stepping stone to differentiate your company.
Review Social Media
Your competitor's social media activity offers information about how consumers feel about the company and indicates what successful and what isn't, which you can use to connect with your own customer base.
Examine social media channels and ask:
What is the nature of your competitor's social media presence?
What channels do they prefer?
What is the tone of their communication with customers?
How often do they post?
What social media channels do they avoid?
What percentage of posts is intended to gain followers and engagement levels?
What percentage of posts is solely about their brand?
Analyzing Your Competitors from Pricing Perspective
Developing successful marketing strategies revolves around key elements like pricing because it's a deciding factor in customers decision making processes. Companies need to monitor competitor activity when creating prices for competitive advantage.
Competitive pricingWhen products are priced with how the competition is pricing their items.
Cost plus strategyA predetermined profit margin is applied over the total product cost.
Demand pricingPrice is determined by establishing an ideal relationship between volume and price.
Markup pricing A percentage is applied as profit over the wholesale product cost.
Businesses need to review competition, costs, and price sensitivity while maintaining the profitability of their business. Pricing needs to cover company overhead, production, and provide a profit.
You can also change your pricing:
Lower than the competition Dependant on your resources, though there is risk associated with diminishing your profit margin.
Higher than the competitionYou may need to add new features or improvements to your product to justify this.
Same as the competitionThe focus shifts to the product and if your company can provide more and better features than you will rise above your competitors.
Analyzing Marketplace Model or Inventory Model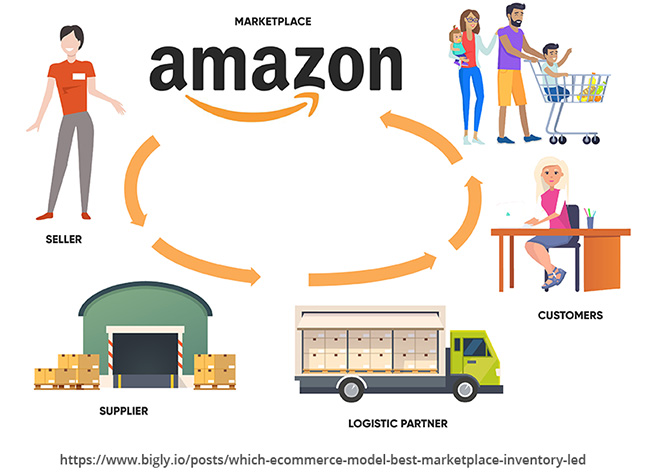 eBay, Amazon, Flipkart, and Snapdeal are examples of a marketplace model, which is an online store where different vendors can sell their services and products for a profit. Product stocking and pricing is set by respective sellers so that customers can discover various pricing and shipping for the same products. This excludes inventory, logistics, and stock management.
Pros
Features numerous sellers who want to sell their products on the website.
Marketplaces don't need to maintain inventory or stock products.
Marketplaces focus on gaining customers and helping them close transactions.
Cons
Need to maintain costs for running marketplace website.
Occasionally costly advertisements for the seller's products need to be featured.
Occasionally the marketplace applies low transaction fees to the sellers, which results in a monetary
Inventory Led Model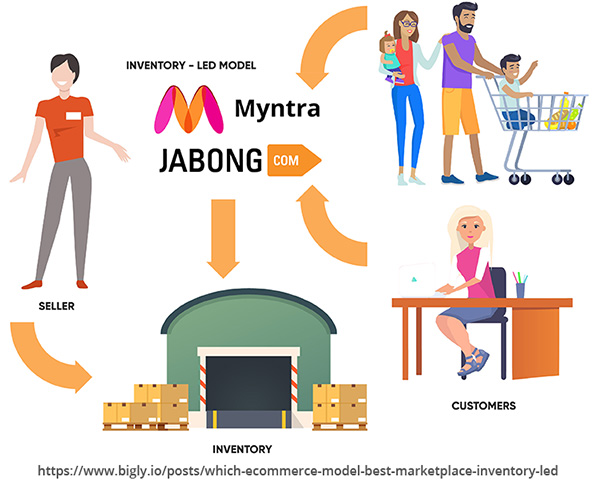 In this model, retailers source products directly from sellers or brands and stock these items, and there aren't multiple sellers offering products. This is an ideal model if you have enough money to purchase items at wholesale and sell it at your own price points, though you do have to maintain and stock everything. Examples of this model include Big Basket, Jabong, and YepMe.
Pros
Numerous advantages because sellers are the owners.
More profitability because sellers can stock numerous products.
Products can be managed easily because products are in the seller's own
Cons
Problems can arise because sellers have to stock all items.
Large investment in purchasing items at one time.
Rent, personnel, equipment, inventory, maintenance can be costly.
Shipping Problem Solving
Lost MerchandiseLost items generally occur during handover either from a company losing a package at a shipping center or when international shipments are processed through multiple shipping systems and companies. Select a shipping partner who uses efficient routes across an expansive location range.
PricingCustomers often abandon carts due to shipping costs, so be sure to obtain the best price for your shipping services.
Need vs. WantMake shipping easier both domestically and internationally and eliminate shipping obstacles for global customers to increase chances of purchasing both a "needed" item and "wanted" item.
Monitoring Shipping MistakesCustomers prefer seeing current shipping information, so choose a shipping service provider that offers GPS tracking without additional costs.
Shipping SupportEnsure that you choose a shipping service provider who offers 24/7 support for small businesses and startups so they can answer any queries you have and offer driver support when necessary.
Packaging ExpensesSelect a shipping service provider that takes your item's shape and weight into account when boxing so that your company can receive the lowest prices.
LogisticsAttempting to handle shipping logistics can add burden to your company's workload, so your shipping service provider should ideally handle the logistical components.
Bonus Tools for Competitive Analysis
Preparing a competitive strategy that shows off your business's strengths, helps you identify your target market, and enables you to promote your brand to potential customers can be done with bonus items and tools for eCommerce competitive analysis.
Fine Details Identify how long competitors have been in business, along with other details like domain registration date, contact information, and server statistics.
Check if They're Hiring Discover what positions they frequently hire for, which offers an indication of the health and prosperity of your competitors.
Funding You can discover how well your competitor is doing and identify if they are looking for funding. Use Crunchbase to check for their investment portfolio and look at campaign platforms like Kickstarter.
Stay Updated Receive email updates about competitor keywords from Google Alerts, and set up other alerts to stay informed about news like new market developments or competitors that may impact your company.
Benefits of Competitor Analysis for E-Commerce Business
While many of the advantages of competitor analysis for e-commerce startups have already been discussed, there are other critical benefits:
Avoid mistakes E-commerce spaces are filled with landmines that can cost your business its success. Learn from competitor failures and avoid making these mistakes.
How do you compareYour eCommerce company needs to know where it's positioned compared to competitors. A tool such as the free Scorecard helps you compare metrics against your peers.
Locate trends Predicting upcoming industry trends is an asset. Gaining competitive intelligence enables you to analyze competitor data and forecast where the market is heading.
Amplify content marketingIncrease traffic to your site by pivoting off of your competitor's content marketing strategy. Check their blogs and social media to see how they carry potential customers through the marketing funnel.
SEOUse tools like Backlink Monitor to see where your competitor's backlinks are coming from, and receive notifications of when they generate new links with SEO value.
Differentiate yourself
from competitorsCreate a persuasive value proposition so that customers purchase from you by analyzing competitor value propositions.
Success Stories of E-Commerce Firms Benefiting from Competitor Analysis

ChallengeFaced struggles during launch and had no marketing budget to feature their product which had various rings inside the candle wax.
StrategyThe co-founder shared user-generated content of customers posting their found rings on social media across the companies social channels.
ResultsDynamic imagery on posts and word of mouth social media marketing led to 250k facebook fans without spending any money on advertising.

ChallengeTheir durable, travel-friendly Bluetooth speakers were entering an oversaturated market.
StrategyThey featured direct product comparisons to their major competitors on their site which showcased Fugoo's strong features against limited competitor features.
ResultsA successful launch with a 300% revenue growth year after year and top organic search placement.

ChallengeMen's personal care products often fail to help their brand rise to the next level due to over saturation of beard products on the market.
StrategyThey use storytelling to create a brand identity and stand out from their competitors.
ResultsThe company reached 120K in sales per month the first year.

ChallengeShopify had a minimal budget and timeframe to launch their own product which was a green tea line.
StrategyThey differentiated themselves from competitors by creating superior product packaging that aligned with their marketing strategy.
ResultsOver $900 in revenue in only three days by just playing around with the idea.
Achieving eCommerce Startup Success
Every eCommerce startup needs to use all available tools at their disposal to hone successful marketing strategies, seize potential market opportunities, and forecast threats. Through effective competitor analysis, businesses can examine and compare their business strategies against the competition.
eCommerce industry analysis should include frequent qualitative reviews of competitor websites, social media engagement, customer service, marketing strategies, and pricing. Businesses can then use these insights both offensively and defensively to accelerate growth and enhance profitability.
Research Optimus (ROP) performs comprehensive eCommerce competitive analysis for major international businesses and small startups alike, using data analytics and business intelligence to help your company generate opportunities and prepare for threats. ROP offers business research for the digital world, with domain expertise, cost-conscious and scalable service models, and a matrix of technology. eCommerce startups can overcome barriers and meet market challenges armed with the customized insights they need to inspire strategic market success.
– Research Optimus
Disclaimer:All the product names, logos, trademarks, and brand names are the property of their respective owners. All the products, services, and organization names mentioned in this page are for identification purpose only and do not imply endorsement.