Why Loyalty Research?
Imagine this. You are on a vacation to Mauritius for the first time. The moment you arrive, you are greeted with your favorite drink at the reception. The room you have been allotted is sea facing and is fitted with a mini-fridge stocked with fresh fruits – exactly the way you like it. What's more, your TV is already showing all the channels you normally watch. When room service calls for taking your food order, he warmly informs you that they also serve Chinese food – your absolute favorite! No, they are not stalking you and neither have they been questioning your spouse about your preferences. The hotel is part of a global hospitality chain that you have stayed at before; and is simply utilizing its CRM and Loyalty research capabilities effectively.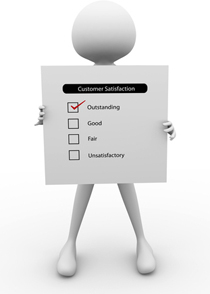 When you are in the hospitality sector, be it hotels, restaurants or catering – client tastes and preferences are important information for you. Today, a customer has a whole bouquet of hospitality vendors to choose from. What then, would make him prefer one brand over the other? The customer is really the King here – and whoever pays special attention to his needs and fancies, likes and dislikes, is whom he would choose over and over again. This is customer satisfaction and loyalty. To add to this, if you can anticipate his needs correctly and give him what he wants even before he asks for it, you will be able to create real 'customer delight' – and that is what marks the difference between real brands and the bandwagon.
How to go about it?
Customer preference data is already stored with you during the course of a regular transaction. You may simply let this rich data source lie idle in your systems. Or you may collate this data and then slice, dice and analyze it effectively to offer the best services and gain the life-long loyalty of a client. There are many tools and research options available today – you can analyze your customer's historic data to predict his spending pattern, determine his tastes and preferences and offer customized promotional packages for his future needs. Why not use John Doe's profile information to keep in touch with him and suggest tailor made offerings right when his birthday or wedding anniversary is around the corner? He will definitely thank you for remembering, if not buy from you. You may conduct surveys on your target audience to find out what factors influence their buying behavior and what you can do to influence these. Or you could fine-tune your current rewards and loyalty program by revisiting your customer segments and studying their behavior.
In current day and age of social media and easy internet connectivity, there is a vast depth of real time and rich data available to you as a marketer. Further, with global work environments and geographically spread work teams becoming a reality, you can easily access specialized loyalty and customer research analysts from anywhere across the globe – to build the base for your loyalty program initiatives. This will help you develop strong relationships with your clients and realize their true 'Customer Lifetime Value'.
The Crux
Picking the right tools and analyzing your existing and prospective client's demographics, spending patterns, tastes and preferences is as much a necessity to a Hospitality vendor today as a map and compass are to a lone trekker. They not only let you check whether you are on the right track; but also help you in choosing the right direction to be able to reach your destination.
– Research Optimus