SWOT and PESTLE analysis is essential for modern enterprises. Just like the two sides of a coin, SWOT and PESTLE analysis are complementary to each other. They are especially useful when it comes to making a systematic and thorough evaluation of any new project.
A SWOT analysis is a handy tool for creating strategies as it demonstrates a company's strengths, weaknesses, opportunities, and threats.
PESTLE analysis helps businesses consider the political, economic, social, technological, legal, and environmental elements in order to determine an appropriate course of action.
Both SWOT analysis and PESTLE analysis frameworks help businesses make proper decisions about their choices, discover opportunities, manage innovation and find areas for establishing competitive advantage.
This article focuses on how companies can create business strategies using PESTLE and SWOT analysis together and take advantage of their complementary features.
Conducting SWOT and PESTLE Analysis for Strategy Development
SWOT and PESTLE analysis together allow companies to get a combined view of the internal and external resources, threats, and opportunities. Since both frameworks analyze the environment based on different factors, companies can get a holistic view of the possibilities and threats that exist for them.
The analysis offered by each tool can complement the other, providing a much broader view of the environment. The use of both approaches together can facilitate a clear understanding of how the external environment will impact the business while strengthening a company's capabilities by highlighting its internal strengths and weaknesses.
What the SWOT and PESTLE analysis do is help businesses decide whether a new project is viable. They also point out if it makes business sense to invest in specific business activities. Through such thorough evaluation, these frameworks set up the companies for achieving success.
If there are disparities between chosen strategies and environments, then the SWOT and PESTLE analysis can reveal what an organization can do to course-correct. For instance, a company might choose to change the priorities of existing strategies or make adjustments in the technology it adopts for product development.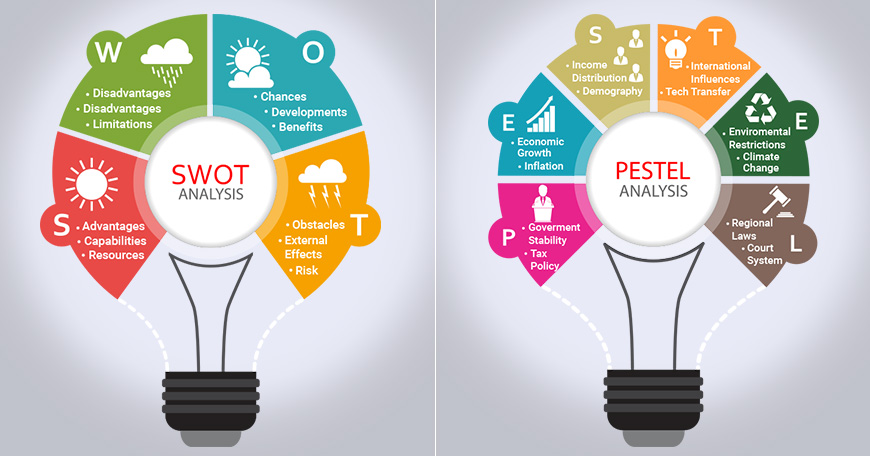 Key Ingredients of a Successful Business Strategy
A successful business strategy can be powered using both PESTLE and SWOT. Since there is an interrelationship between the internal environment (strengths and weaknesses) and the external environment (opportunities and threats), these frameworks together can provide guidance when crafting strategies that align with organizational goals.
For instance, performing SWOT analysis on research and development (R&D) activities can identify strengths in R&D capabilities as well as weaknesses, such as the need to invest resources into those projects that currently show limited chances of success. PESTLE is also essential for crafting strategy, as it gives organizations an understanding of the external environment.
The combination of SWOT and PEST analysis into a single strategic framework also helps to pinpoint the effects of deregulation (or re-regulation) on established businesses better. This approach makes it possible to highlight opportunities available in an industry, such as those created by regulatory changes. Such opportunities are often overlooked when performing SWOT and PEST analysis separately as standalone activities.
Benefits of Using SWOT and PESTLE Analysis Together
There are several benefits of using both SWOT and PESTLE analysis together. Here are some of the most notable ones:
Using both methods together produces a comprehensive evaluation of a project.
Firms can identify potential threats to the organization and reduce the chances of negative impact.
It encourages employees to adopt a strategic thinking mindset at every stage of the planning and implementation process.
It creates a method to find new opportunities.
It allows firms to evaluate the impact of various decisions before implementation.
It can be applied to a range of large as well as small projects to identify factors that may affect success.
As mentioned earlier, however, these two methods are not the same. PESTLE looks at external factors that may affect an organization. SWOT, on the other hand, looks internally within companies to identify strengths and weaknesses as well as attractive opportunities and potential threats.
Companies can use both methods together. This provides more tools for the development of new strategies aimed at improving performance levels or exploration of potentials for the development of business activities. Also by using both strategies, managers can compare a business's position relative to other competing firms in the industry, along with the market trends affecting them.
Conclusion
To conclude, SWOT and PESTLE analysis are mainly used for identifying the strengths, weaknesses, opportunities, and threats for a business. Using them together, a business can enhance its strategies and establish a competitive advantage in the market. Companies can take advantage of these methods by doing a thorough and comprehensive analysis of all the internal and external factors. If your organization is ready to implement SWOT and PESTLE analysis, there are expert business and market research firms with the analytics expertise to help. As a leading outsource global research and analytics company, Research Optimus (ROP) provides these services to enterprises of all sizes. Visit the ROP website and request a quote today.
– Research Optimus