Imagine this – You enter Store No. 2 of a local retail chain that has 4 outlets spread across town. You are looking to exchange a pair of jeans you bought today morning from Store No. 1 of the same retail chain. The Store No. 2 manager logs on to his POS and immediately retrieves a copy of the relevant bill, executes the exchange without any lengthy discussion with Store No. 1. The new bill gets generated for the shirt you are now buying and resultant inventory changes get updated in the system immediately across all 4 branches. Smooth and hassle free process for everyone, from the shopper to the managers.
You must be thinking – such an impressive, highly integrated, real time IT system for a local retail chain? Their IT costs must be shooting through the roof! Think again. Think Cloud Computing and Software as a Service (SaaS).
What exactly is Cloud Computing and SaaS?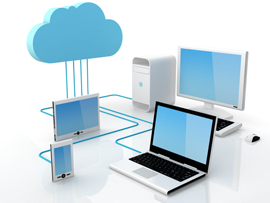 Forrester defines Cloud Computing as 'Standardized IT capability (services, software, or infrastructure) delivered via Internet technologies in a pay-per-use, self-service way'. SaaS is generally referred to as 'On Demand Software' and is basically a software delivery model where the software and related data are centrally hosted on the cloud.
So why are we calling this the future? What does cloud computing offer you over and above regular 'on-premise' computing solutions?
Money, money, money! – A huge chunk of your investment for buying software and hardware, its customization, maintenance and up-gradation costs are saved. Also, the implementation time will be much less than any on-premise solution.
Scale up – Scalability is perhaps the biggest benefit of being on the cloud. Even if yours is a small or a medium sized enterprise, you can easily opt for cloud computing and SaaS, as it provides you an option to scale up your IT when your business grows in size.
Real data and 'now' data – Real-time data integration will mean consistent and factual information available to you and your stakeholders everywhere without delay, i.e. no more data-silos.
Keeps your customers smiling – Smoother processes and single customer view across your organization will definitely translate into satisfied and happier clients for you.
All clouds float together! – It will provide you more flexibility for faster integration with other clouds, social media, wireless and mobile technology – meaning your organization will remain young, connected and tech-savvy.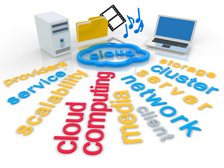 Trends
Research shows that the biggest areas where most businesses are fast adopting cloud computing include data storage (back-up and archiving); business communication, collaboration and connectivity; and big data processing and analysis. So you need to analyze these areas of your business and then decide if cloud computing and SaaS can help you. Another trend that you need to think about before deciding anything, is the general move towards public and hybrid clouds which provide more flexibility than internally hosted systems.
Issues
Are there any pitfalls of cloud computing and SaaS? The biggest issue you need to consider is security – how concerned are you about leaving your primary and sensitive data on the cloud where it might be accessible to others? Research shows that it is one of the major inhibitors to quick adoption of cloud computing and SaaS. High levels of vendor dependency and uncertainty about support services might be other areas you need to be sure of before moving to the cloud.
The Crux
All said and done, it cannot be denied that in the times to come, cloud computing and SaaS will play a pivotal role for businesses like yours all over the globe. And its contribution to saving dollars for your business and bringing smiles to your clients' faces might end up adding the proverbial 'silver lining behind the cloud'!
-Research Optimus